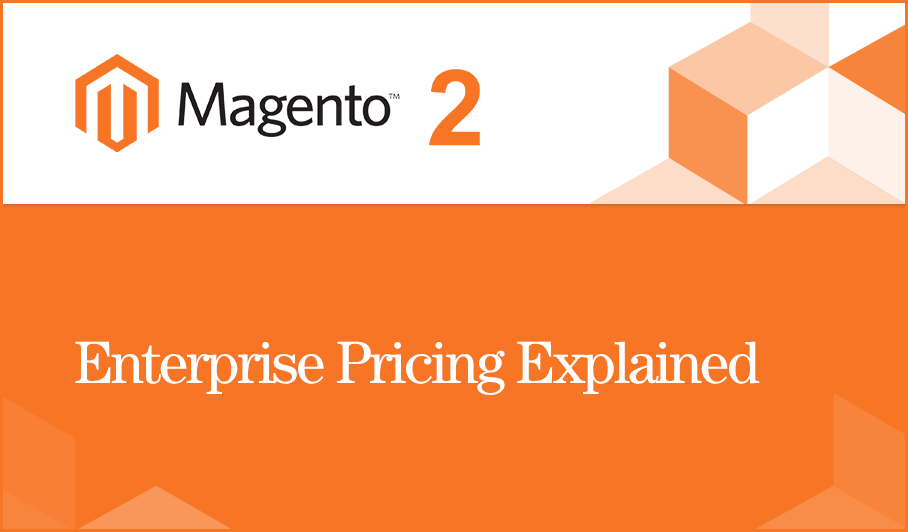 In this modern day, there are several eCommerce platforms to choose from.
These are some of the reasons why retailers have been choosing Magento Enterprise as their platform for their eCommerce business. Magento Enterprise gained popularity because of their low prices but great performance.
But should you upgrade to Magento 2? While those in the Magento community are excited about the upgrade, it's unsure if Magento 2 is worth the investment. Take a look at our guide to Magento Enterprise Pricing and their benefits.
Note: all prices are in USD$
Magento 2 Enterprise and Magento Cloud
Magento Enterprise Edition (EE) version 2.0 launched in 2016. It's an improved version of the original Magento platform that offers more benefits and upgrades from their original platform.
The launch of Magento 2.0, or commonly called Magento 2, introduced a brand new edition: Enterprise Cloud.
While Magento 2 has an affordable Community plan perfect for small businesses, companies who are serious about eCommerce or drive high revenue are encouraged to invest in Magento 2 Enterprise.
With Magento Enterprise came Magento Enterprise Cloud Edition (ECE).
This PaaS (Platform-as-a-Service) combines hosting and managed service infrastructure with fully secure and customizable storefronts by running on Amazon Web Services Cloud.
Rather than be limited by eCommerce third-parties, Magento Cloud Services responds to rapid technology change which suits both merchant and customer.
This is perfect for eCommerce retailers who tailor technology to the needs of their service and their customers.
The Pricing Difference
Magento Enterprise (now known as Magento Commerce) pricing changed once Magento 2.0 was released.
The Enterprise Edition for the original Magento plan starts at $18,000 for the year. The Enterprise Edition for Magento 2.0 starts at $22,000.
For Magento 1, the price of purchasing a Magento license increased with each server you added. For Magento 2, the final price is determined by the amount of revenue your company brings in.
Here are the pricing differences of Magento EE license from 2009 (a year after formation) to 2016:
2009: $8,000
2015: $18,000
2016: $22,000
Magento 1 EE was cheaper because you paid per server that you licensed. But this limit is gone to Magento 2. The tier forms a minimum your business makes.
If your business makes a million or less in gross merchandise sales value (GMV) then they take $22,000. If your company's GMV is more than a million, the cost will rise.
Here are the general scales, GMV = License Cost:
Under $1M GMV = $22,000
$1M – $5M GMV = $32,000
$5M – $10M = $49,000
$10M – $25M = $75,000
Since ECE is fully-hosted, the prices are more expensive than EE. Expect to pay between $40,000-$190,000 for the whole year.
Like, EE, ECE's pricing is based on your GMV.
Here are the general scales, GMV = License Cost:
Under $1M = $40,000
$1M – $5M = $55,000
$5M – $10M = $80,000
$10M – $25M = $120,000
$25M – $50M = $190,000
Why Is Magento EE and ECE More Expensive?
Over the last few years, the Magento Corporation has undergone some business changes, which has resulted in higher prices for their services.
But a lot of Magento users will argue that the increased Magento Enterprise Pricing is due to more value in the Magento 2 Enterprise program.
There are many updates and improvements to the service. Several of these updates include extensions and different pricing options.
But weighing out these great features is difficult for eCommerce businesses who make less than a million in GMV. While they will receive great business, is the high cost worth it?
ECE is one of Magento's newest offers, but it comes at a hefty price. But for a commission off of your GMV, you receive a license, hosting, and eCommerce solutions in a convenient cloud-based software.
However, ECE offers monthly payments to distribute the cost.
For businesses who make under a million GMV, this service can be risky; they may lose more revenue than they could gain. Because of this, ECE is recommended for middle-sized businesses and higher.
Magento 2 Pay Extensions
Magento 2 Enterprise offers different payment methods for you and your customers. You can download these as extensions to your Magento account for different Magento Enterprise pricing options.
These include:
Amazon Pay: You can easily add Amazon Pay to your Magento account. You do need an Amazon Pay account, but after you register you can integrate Amazon Pay into your Magento account.
Apple Pay: Starting as just an app, Apple Pay is now available on websites including your Magento store. Your customers can easily purchase your products through their iOS device or on their Apple ID.
Google Wallet: You can accept payments from your customer's Google accounts and from the card they have saved in their Google Wallet. Integrating Google Wallet also helps boost SEO.
Bitcoin and Altcoins: Because of its security and effectiveness, more digital consumers are choosing bitcoins and altcoins as payment methods. Accepting bitcoins and altcoins can help your store attract these consumers.
PayPal: This payment service is by far the most widely used because of its efficiency and safety. PayPal is also great for international shoppers.
These extension options and add-ons will help you appeal to a wider audience while also benefitting you in terms of gaining revenue.
However, certain extensions are not supported by ECE.
Should You Choose Magento EE or ECE?
If your business is a medium-to-large scale business receives steady sales, a high GMV, and requires hosting and cloud-based software, then you'll benefit from Magento 2 ECE.
But if you own a small-to-medium scale eCommerce business that generates under $5 million GMV, it's probably best to stick with the EE.
The true factor in choosing either plan is how much revenue your company generates. ECE offers more benefits, you get an all-in-one package, and you can opt for the convenient monthly cost pricing option.
But if your company doesn't generate high revenue, you can manage your own hosting, and you don't need the cloud software, EE is the right choice for you.
Regardless of which plan you pick, the price becomes more expensive as you generate more revenue.
If a corporate-level eCommerce retailer prefers to spend $75,000 for a license that doesn't include cloud software and hosting, the EE will work just as well and this company will save over a hundred thousand dollars.
Looking at competitors is another preferred option. Magento's earn-more-pay-more tier isn't uncommon with other PaaS companies.
However, they don't have an exact tier such as Magento; rather, the company takes out an additional percentage of revenue with each additional dollar the company earns.
Competitors and Their Pricing
For comparison, here are costs for other eCommerce platforms at an Enterprise Level:
Hybris: $54,000/year.
Oracle: $50,000 first year, and $110,000 each following year.
Shopify Plus: Starts at $2,000/month.
What Do You Think of Magento Enterprise Pricing?
Many Magento 1 customers are hesitant to switch over to Magento 2. And it's obvious why – the platform is more expensive.
But it's best to weigh out the benefits to know if Magento 2 Enterprise is worth the investment or not.
If you're looking for additional Magento options, we're certified to assist your store with Magento technology.