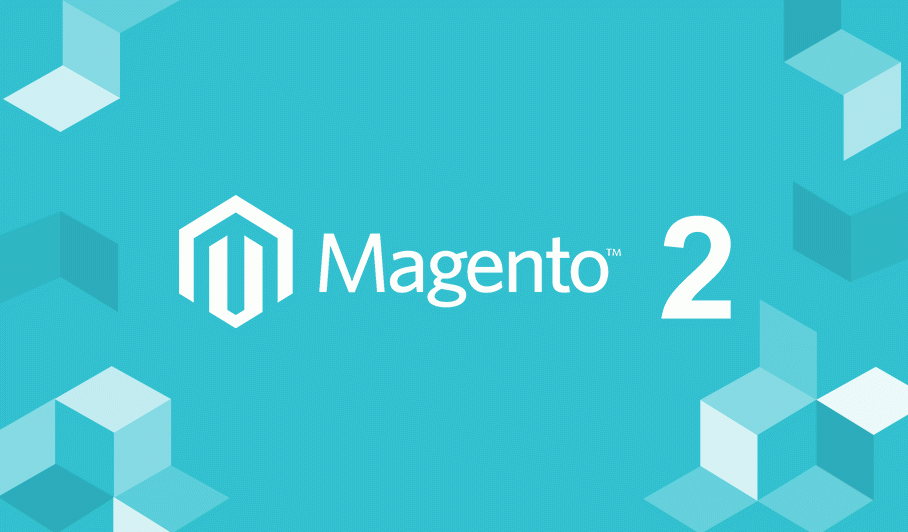 Been wondering about the differences between Magento 1 and Magento 2? No worries. We've pulled together a list of what we see as the top 5 improvements which will be the most beneficial to customers and merchants.
We'll assume that you already have some knowledge of Magneto 1, so let's start to break down the major improvements with this new update.
1. Faster Performance
We've all spent a lot of effort optimising our Magento 1 websites to load fast as possible, so you'll be happy to hear that site performance has been one of the main areas of focus from the team at Magento.
On the front end, there's an improved use of browser cache for static assets and optimisation of JavaScript, CSS and HTML.  All of which is music to the ears of Google's PageSpeed Insights tool.
Full Page Cache and Varnish Cache are now also included out-of-the-box for both Community and Enterprise Edition and other improvements include support for the latest versions of Redis and MemCache.
All of these improvements result in significently faster load times, allowing you to focus your efforts on other areas such as improving the user experience and site conversions.
Enterprise Edition goes a step further by delivering enterprise-grade scalability and the ability to have separate a database for things like the checkout, order management, and product catalogue management.  For example, when a customer adds a product to their cart, you can separate this out, with the checkout process using a separate database. This means the checkout process won't be slowed down by other activity on the site, such as other users browsing.
2. Better User Experience
There are a number of improvements which will have a positive impact on the most important person in the business, the customer.
More mobile friendly – Magento out-of-the-box now comes with a responsive theme, which means that all Magneto 2 websites will be optimised for both desktop and mobile devices.  This is an absolute must these days, especially with Google penalising websites that aren't responsive
Optimised checkout – most Australian retailers couldn't wait to replace the Magento 4-5 step accordion checkout with the one page, three column checkout.  The Checkout in Magento 2 is one of the most impressive improvements, with an enclosed 2 step process that is easier to view and navigate, order summary with product images and the option for guests to create an account on the confirmation page. By capturing the email address as the first field, it's also primed for sending out abandoned cart emails
Improved payment integration – there is tighter integration with PayPal, BrainTree and Authorise.net.  If you're on Enterprise Edition, then you can tale advantage of WorldPay and the impressive fraud protection service CyberSource
3. A User-friendly CMS
Magento 2 is not only focused on the customer, it also shares the love with store owners and administrators.
One of the main gripes with Magento 1 vs other platforms such as Shopify is the confusing admin interface.  It's clear to see that it was designed by developers rather than UX designers and as such has always been difficult to manage for store owners.
The Magento 2 admin interface is far more user-friendly and intuitive, as you can see from these screengrabs.  In addition to the design improvements, we've listed the best bits below.
Sections are more logically organised.  For example, a new Marketing tab now provides access to your promotions, user content and communication tools.  Your SEO and Search settings can be found in here as well, rather than going to System > Configuration > Catalog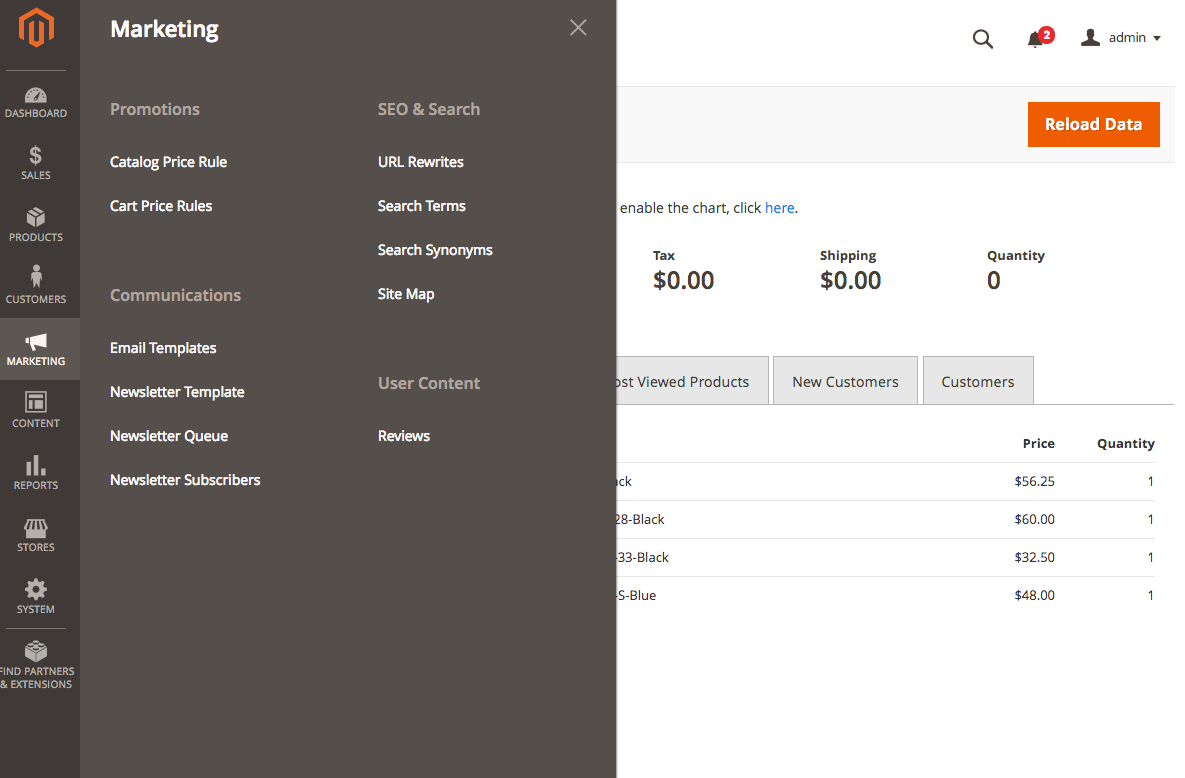 The information grids now enable you to display extra columns and a search function has been added, saving valuable time when looking for products and orders.  The products grid also has image thumbnails by default!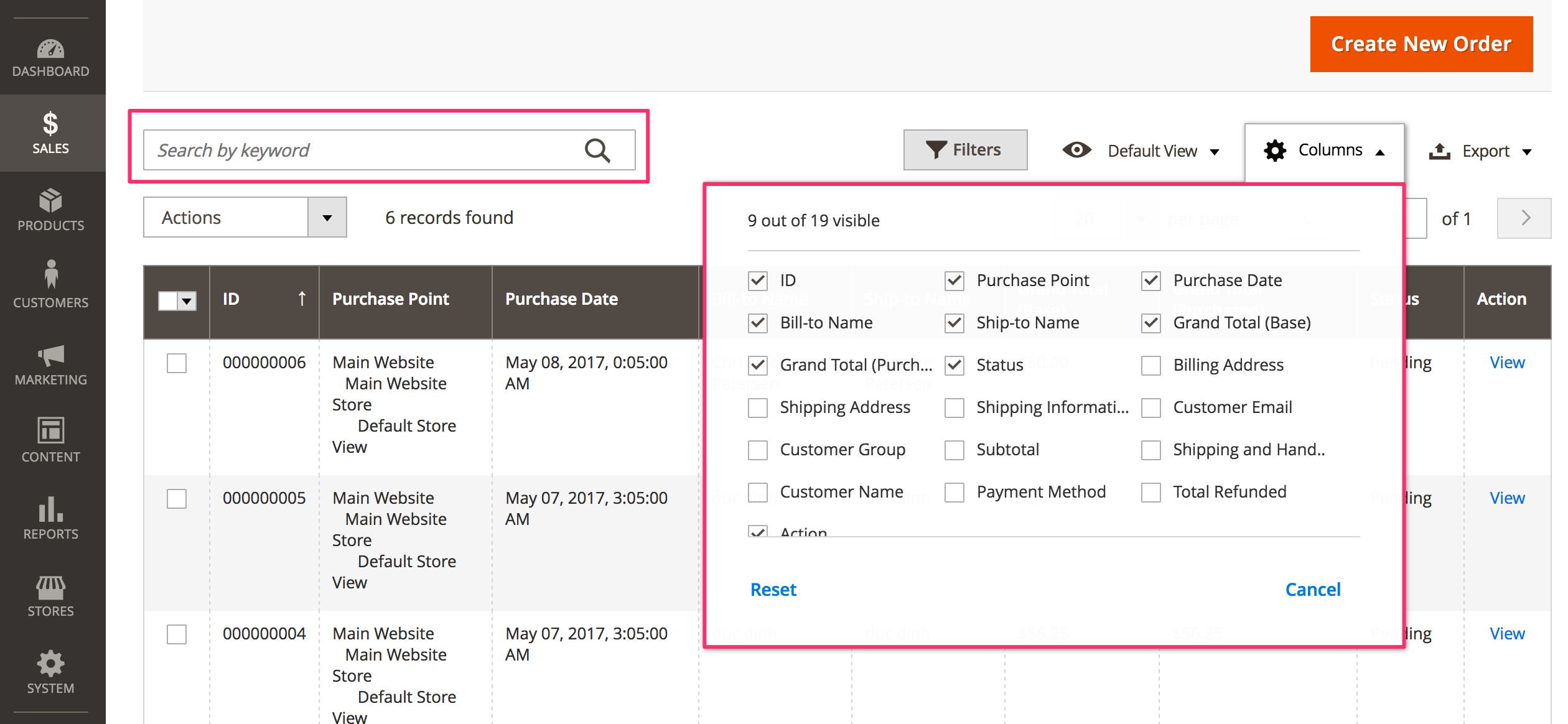 Creating products is now much faster, as the product management workflow has been overhauled.  You can create associated simple products while creating your configurable product, bulk upload images and even create new attributes while editing the product
The annoying pop-ups when uploading images, adding attributes and editing simple products are a thing of the past.  A slide-on window now replaces this so you no longer have to hunt for pop-ups behind windows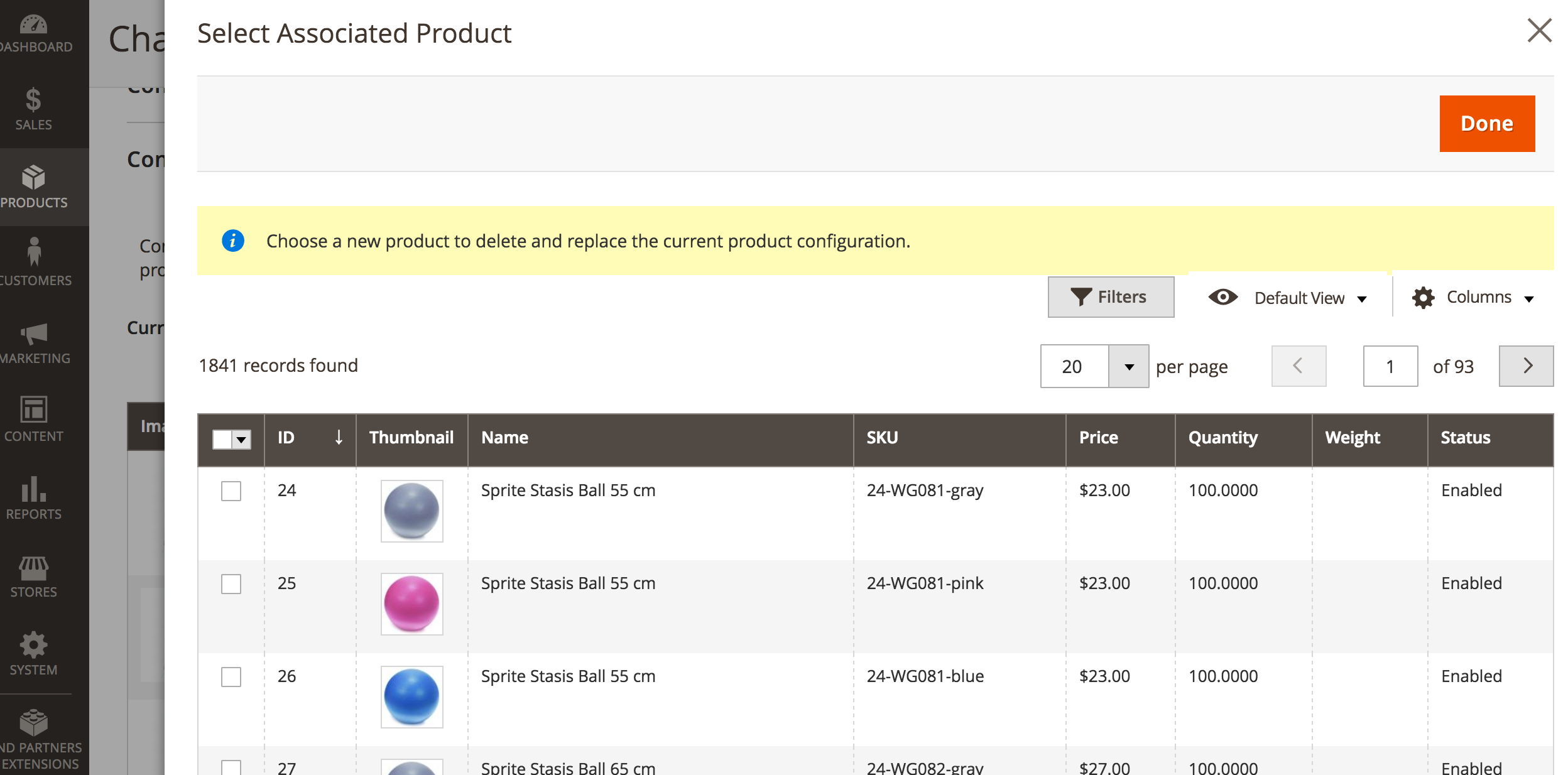 Although the site admin features are a huge improvement over Magento 1, there are a few things we would have like to see added which have been overlooked.
Order management – viewing additional order information from the grid page rather clicking through to the entire order each time and the ability to add custom statuses out-of-the-box, both of which are available with Shopify.  Even being able to add colours for different statuses would make order management easier for busy merchants
Product merchandising – being able to merchandise products with image thumbnails and drop and drag functionality, rather than the existing numbered ordering system
Device responsive – according to Magento the admin site should be responsive on tablet and mobile, however the desktop site is still displayed
The beauty of Magento is that most missing features to make administering the site easier can be added on, using extensions and customisation.
4. Better extensions
Magento Connect has been replaced with Magento Marketplace for Magento 2 extensions, with the quality of extensions now monitored specifically by the team at Magento.  Any Magento 2 extensions have to go through a strict code quality review and be approved by Magento before they can appear in the Marketplace.
With this new process, you can be assured that any extensions purchased (through the Marketplace) will only be qualified modules, so the quality of the code will be much better than some Magento 1 extensions.
5. It's Constantly Updated
Magento 2.0 is ensuring that you won't fall behind the curve by offering new updates every 3 months.
This means that, if you are trying to stay on top of the market, you'll be able to incorporate the latest technologies and trends to keep your customers happy while they shop.
The Verdict
Magento 2 was a long time coming and we believe that it has been worth the wait, with the major pain points and inadequacies of Magento 1 addressed and significantly improved.
If you're already on Magento 1, unfortunately, the process to move to Magento 2 isn't a straightforward upgrade, but you can read more on that in our post 'Upgrading to Magento 2: What You Should Know'.
If you'd like to know more about how Digital Outlook can help you plan for a smooth and stable transition, you can view more information here.