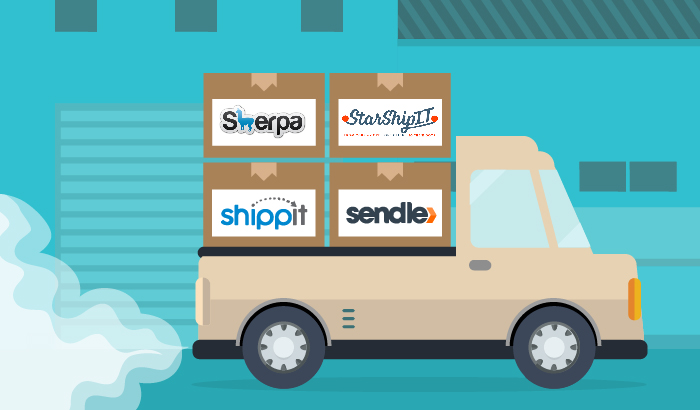 The Australia Post is not the only way to ship your eCommerce goods. There are other top shipping services that may work better for your business. With the rise of trends like monthly subscription boxes, online shops are shipping out more packages than ever.
Comparing these services may seem overwhelming, but once you take a look at our shipping guide, you'll be able to choose which service is right for you.
Shippit
Shippit is a cloud-based shipping service that allows you to book multiple carriers to send your goods. Shippit easily integrates with your Shopify or Magento platform by installing the Shippit app or following API docs.
Shipping Smarter
Shippit helps you find the best carriers for your shipment and recommends the best way to pack your goods. Choose from interstate couriers like Austrailia Post, CouriersPlease, TNT, Fastway Couriers, DHL, and StarTrack to ship your items anywhere in the world. All you have to do is confirm your shipment, book your pickup time, and then wait for Shippit to arrive.
Shippit features filters that assist you in prioritizing orders and is also able to generate automated invoices, as well as packing slips.
Tracking
Tracking on Shippit starts from the moment an order is placed to the time it's delivered. Email and SMS notifications alert the customer of when the package is scheduled to arrive. Shippit uses special technology to avoid delays, while also notifying you and your customer of any possible delays.
Returns Made Easy
Customers are able to choose to drop off their package or have it picked up. As for the cost of the return shipment, you can decide who pays.
The return page interface can be branded to match your company. The customer simply has to enter their order number and email address to initiate a return.
Pricing
Shippit offers a range of price plans that cater to small and large businesses.
For small businesses, the pricing is as follows:
Start: $19/month
No additional charges for booking
12% off the shipping price
20 orders shipped per month
Email Support
Grow: $49/month
No additional charges for booking
34% off the shipping price
250 orders shipped per month
+75c for added bookings
Add your own carrier accounts
Live-chat and email support
Unleash: $150/month
No additional charges for booking
45% off the shipping price
500 orders shipped per month
+45c for added bookings
Add your own carrier accounts
Live-chat, email, and phone support
For a larger business, Shippit offers a scalable price determined by how much you ship:
Empower: $250-$999/month
Quick paperwork generation
One hour response from direct phone support
Arrange deliveries from multiple brands and locations
Brand your tracking process
Create support tickets for any delivery problems
StarShipIT
StarShipIT is cloud-based software that simplifies the process of delivering online and offline orders. StarShipIT is head-quartered in Australia and New Zealand and has been specifically developed to service these markets. StarShipIT is also known as ShipIT.
Shipping
StarShipIT offers shipping both domestically and internationally. It integrates with the world's most popular and trusted eCommerce platforms including Shopify, Magento, WooCommerce, BigCommerce etc…and with over 13 carriers across Asia/Pacific including Australia Post, DHL, Star Track, NZ post, Toll, Sendle etc…so giving you a great flexibility.
Branded tracking page
StarShipIT provides automatic shippings notifications since orders are placed until it's delivered. They allow you customise emails/SMS notifications and  specially make your own branded tracking page where you can customise the page with your logo, imagery and voice and use the chance to further promote your shop or a particular promotion.
Return
StarShipIT has two convenient options for return management based on your unique needs. You can use StarShipIT to either automatically email a return label when an item is shipped, or pack a return label in with each shipment or alternatively email a return label at a later date. They also have self service return label generator whereby you can give your customers the option to generate their own return.
StarShipIT offers returns for their courier partners including DHL, Australia Post, StarTrack and Couriers Please.
Pricing
StarShipIT offers a range of price plans that cater to small, medium and large businesses.
Starter
Price: $40 per month (paid annually) or $50 per month (paid monthly)
<250 shipments/mth
Unlimited channels
Unlimited carriers
Professional
Price: $80 per month (paid annually) or $120 per month (paid monthly)
<4,000 shipments/mth
Unlimited channels
Unlimited carriers
Enterprise
Price: $160 per month (paid annually) or $200 per month (paid monthly)
<20,000 shipments/mth
Unlimited channels
Unlimited carriers
For larger businesses with > 20,000 shipments/mth you can call them to get a quote.
Sendle
Sendle is Austrailia's first delivery service to be 100% carbon neutral. They mostly cater to small or medium-sized businesses. Sendle can be easily integrated into Shopify but does not have Magento support.
Shipping
Sendle gives you the ability to manage shipments, and make sure that your customers are aware of each stage of the shipping process. They also provide a support service that is easy to access.
Tracking
Customers are able to track their order by typing in their order number on Sendle's website. Tracking pages can be branded by simply uploading your company's logo.
Guaranteed Pickup
Sendle's pickup policy states that any package that is delayed or not picked up on the day that you scheduled, a driver will pick it up the next day at their cost. If the driver still doesn't pick it up the next day, the shipping will be free.
Unlike Shippit, Sendle doesn't have express shipping. Currently, shipments to the same city arrive overnight, while deliveries to nearby cities take two to three days.
Returns
Sendle doesn't offer any returns on international shipments, but returns are available for domestic shipments.
Low Costs
You can become a member of Sendle for free with no monthly costs depending on which package you choose. In addition, Sendle offers domestic shipping rates cheaper than the Australian Post.
There are three shipping plans you can choose from. Prices vary by the size of your shipment:
Sendle Easy
Recommended for personal senders
Free
Domestic shipping rate range: $7.75-$27.95
International shipping rate: $18.95
Sendle Premium:
Recommended for small businesses
$10/month
Domestic shipping rate range: $6.75-$26.95
International shipping rate: $16.95
Sendle Pro
Recommended for bigger businesses
Must send at least 200 parcels in one month
Domestic shipping rate range: $5.75-$24.02
International shipping rate: $14.95
Sherpa
Sherpa is an on-demand shipping service, operating from 7am-7pm seven days a week. They cover the biggest cities in Australia: Sydney, Melbourne, Brisbane, Gold Coast, Adelaide, and Perth. With a huge network of drivers, your package is guaranteed to be delivered quickly.
A Sherpa plug-in can be added to your Shopify or Magento store. Custom integration options are also available.
Quick and Safe Shipping
Sherpa provides same-day, two-hour, four-hour delivery and next-day delivery. If any item worth up to $300 is damaged, Sherpa will pay for its cost. In addition, each driver is screened to make sure that your package will be delivered safely.
Easy Tracking
Sherpa offers tracking from their app and website. Customers are able to track the driver's location and the estimated time of arrival. If there's any problem with the delivery, they simply give the driver a call.
Returns
Your customers are able to book returns through Sherpa, however, they are responsible for paying the shipping costs.
Pricing
The price of Sherpa's service depends on the volume of your shipment, the distance it's traveling, and how fast you want it shipped. Sherpa allows you to get a quote for your delivery right on their website.
Which of these shipping services are right for your eCommerce business?
If you own a large eCommerce business in Australia, Shippit is your best bet. It has plenty of connections to interstate couriers and has the technology to get your goods shipped without delays. Shippit is also optimized for both Shopify and Magento.
Smaller businesses will find a lower rate at Sendle or Sherpa. They both offer low prices for domestic shipping. But be aware that Sherpa does not send packages internationally.
Hopefully, deciding what shipping service to use has now become much simpler for you.
Check out our blog for more tips on improving your eCommerce business.