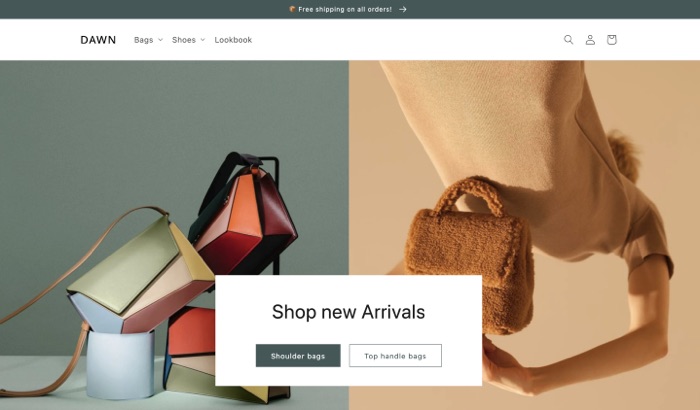 Shopify is a popular eCommerce platform that holds a 20% market share.
Its simple interface and low entry point make it ideal for small business owners to sell online within days. The vast range of Shopify themes and Shopify apps means you can customise it to suit your brand. And you can extend things further with Shopify POS tools for your offline store.
Shopify made an important announcement on 29 June 2021 that will impact current users and the platform moving forward.
The new Shopify 2.0 system offers a range of updated features like new developer tools and a default theme called Dawn. This article examines these changes and explains what they might mean for your company.
Read on to discover how Shopify 2.0 will impact the eCommerce scene in 2021 and beyond.
What Is Shopify 2.0?
Shopify was first launched in 2006 as a way for merchants to sell their products online in an easy yet effective way.
Pricing tiers were kept simple and included payment processing as part of the monthly cost. Over 1 million retailers now sell on the platform and developers can tailor everything through Shopify themes and apps.
Shopify 2.0 aka Online Store 2.0 is the next evolutionary step in the Shopify system.
It addresses many of the software's limitations and attempts to match modern customers' expectations of how a site should work. The new Dawn default theme provides a more intuitive experience for both shoppers and staff.
The remainder of this article highlights the main changes and how they impact existing stores.
New Shopify Website Features
Shopify 2.0 brings a wealth of new features that fit into the following categories:
Shopify themes architecture
Store content
Developer tools
Unlike WordPress sites, Shopify rarely updates its core code so this announcement is newsworthy.
Although technical in nature, these edits will have a major impact on how websites will perform. SEO, Google Search rankings, social media integration, etc. should see a shift due to the latest release.
Updates to Shopify Themes
Shopify themes act as the storefront for your online business.
They provide a search facility, product catalogue and details pages, shopping cart, and checkout. They must work well on any device including mobile phones and owners should be able to edit them as required.
The new Shopify release overhauls the theme architecture by introducing a new default theme. It also revamps the theme editor and lets developers tie content together in a more logical way.
New Default Theme
Dawn overrides Debut as the default theme and loads 35% faster.
It's built with modern responsive HTML and CSS which means it works on any size of a screen. That's great news for SEO as Google rewards mobile-friendly sites.
The use of JavaScript is now reduced which makes pages load more quickly. The end result is a slicker user experience (UX) and a higher search engine spot.
Editing colours site-wide is now possible through the harmonised colour palette.
Choosing a primary and secondary colour scheme gives you full control over how your site appears. The atomic architecture lets you invert colours or choose a background colour for every element.
Dawn is more flexible and intuitive and your customers will see the difference compared to your previous store.
Theme App Extensions
What if you need more from your theme to make it work exactly the way you want it to?
Theme app extensions let developers edit existing Shopify themes to add extra resources. These are divided into:
Assets – scripts, style sheets, and static content that extend the theme's functionality
App Blocks – UI components that work alongside the editor
Snippets – reusable pieces of code that work in app blocks
The Shopify development language Liquid gives software coders full control over the theme.
Shopify 2.0 extends Liquid to work with the theme editor. This means shop owners can make simple edits themselves without the need for additional coding.
Changes to Shopify Store Content
The updated theme editor brings with it the ability to add metafields. But what are metafields and how are they useful?
Shopify metafields allow retailers to assign hidden information to a product and other resources. For example, a part number or a release date.
Developers can use these data points to show the information based on the item shown.
A website that sells car parts wants to display instructions based on a part number. Metafields hold this information in the background and display it on the related product page.
This is a welcome addition as the existing Shopify system offered no such facility.
New Development Tools
Developers can code more quickly with Shopify 2.0's CLI tools that work with Ruby and Node.js.
Those technical terms won't mean much to most store owners but the cost implications will. Less time spent developing equals fewer development costs. The end result also provides a better UX and sites will launch more quickly.
Impact on Existing Shopify Stores
New Shopify sites can avail of Online Store 2.0 and the new Shopify themes. How does that work for existing stores?
Migrating will become compulsory by the end of 2021. To achieve that, store owners must use a developer who can edit the code to match 2.0 standards.
That includes converting Liquid templates into JSON templates. Moving HTML into the new Sections format is a must too.
The process will require time and effort and that will have a financial impact on larger stores.
Does This Alter Shopify Pricing Charges?
Shopify hasn't indicated that the new release will impact their monthly price plans.
Australian business owners can still run their online stores for $79 USD per month. However, that doesn't include extra charges like apps or Shopify Plus. And if you have over 8 inventory locations the price will almost treble.
Ecommerce Solutions for Australian Retailers
Shopify users will receive a major upgrade to their existing online stores with the launch of Shopify 2.0.
Shopify themes have had an overhaul with developers now being able to add sections on each page. The new theme architecture offers a structured way to include dynamic content. App blocks provide much-needed modularity to reduce development time.
However, Shopify still suffers from major limitations, especially when it comes to managing stock. That's why Digital Outlook develops eCommerce websites using industry pioneer Magento.
Magento 2 offers many of the same features as Shopify 2.0 but can tie with your backend office. You'll have full control over inventory, marketing, and shipping fulfilment. And our team of experts will help guide you on how to best set up your store.
If you're an Australian small business owner who wants to sell online then contact us today.