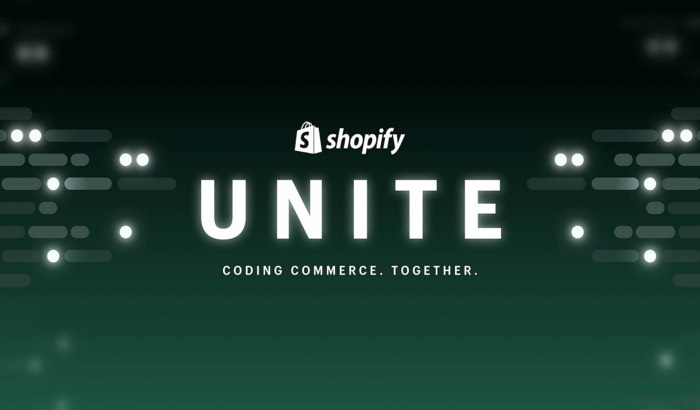 Shopify Unite is an annual conference in which Shopify make their annual announcements and inside developments. It's full of presenters from the parent company's partner stores and software developers who share their expertise with an ever-expanding group of Shopify merchants.
If you've already got a Shopify store, keep reading. We're going to take a closer look at the changes that are coming to your Shopify store soon. But if you're new to Shopify, let's cover why Shopify is worth your time and investment.
What Is Shopify?
Shopify is a web-based eCommerce platform that enables anyone to set up an online store. They automate the back-end for you, meaning you can focus on the things you love most about your business. Shopify is their flagship product, but it's one of many products they offer.
What's Changed in Shopify?
This year Shopify sees some of its biggest changes after seeing huge success stories thanks to global pandemic restrictions. Shopify reported double traffic across its online stores as a result. So let's take a look at what announcements took place and what that means for your business.
Zero Percent Revenue Share in the App Store
Shopify's pricing model received one major change for small and medium app developers. There's now zero per cent revenue share each year on your first million dollars in the Shopify App Store.
That's a large amount for any business. More so for developers who don't always see their investments break even.
The difference is significant, too. The revenue share used to be 20% so that businesses could save up to $200k a year! But it's great news for big businesses too. Those turning over $1mil now only pay 15%. That's still a huge saving for any business!
Online Store 2.0 Has Arrived
The year 2021 sees a revamp of the online store experience. One of the main improvements adds flexibility for customising store themes, making it easier for developers and businesses alike to tailor the design to the client's needs. Changes include:
Updated Themes
The updated themes allow developers to customise their web pages better. It also makes running your website easier as there is less maintenance involved and more of a one-click solution.
Theme App Extensions
Primarily for developers, this gives them the tools to use apps in merchant themes using what's known as "blocks." As the retailer is a more stable website, the result for you as the code is less likely to break due to this plug-and-play solution.
Flexible Store Content
Changing the metadata on your website became a breeze with this announcement. In summary, changing data is simpler and now supports variable media such as images and PDFs.
New Developer Tools
New tools for developers include themes, more integration with developer software, and more ability to test new themes and changes. Making the developer's job quicker and easier should save you in labour costs and result in fewer technical difficulties along the way.
Apps Help to Extend Shopify Checkout Options
There's a huge focus on checkouts this year to try and make the process as seamless as possible. As discussed, much of this comes down to increased traffic and data for how new users are using the platform. Some changes include:
Post-Purchase Checkout Extension
The post-purchase checkout extension is a brilliant feature for retailers, as it allows you all kinds of post-sale customisation, such as discounted bounce-back purchases. It sits between checkout and the thank-you page.
Of course, offering discounts and promotions is only one avenue to go down. You can use it for surveys and competitions, too, to collect data on your customers that you can then use to enhance and refine the whole shopping experience.
Shopify Scripts
These developer's tools allow the developers to optimise your workflow. Extra customisation means the whole store back-end is easier to automate. This automation saves you and your customers time having to conduct fewer tasks in the customer journey.
New Payments Platform
Aimed at payment gateway companies (think Square or Stripe), these companies now create their gateways as Shopify apps. As the end-user, this means you get all the benefits of new checkout and payment features that are innovative and advancing.
App Development Improvements
This year sees updates that encourage app developers to build high-quality apps. To enable this, Shopify has brought in numerous modifications to the process to make sure it's as accessible as possible. As these are for the developers of the apps you use on the site, we'll stick to highlighting these changes, which include:
Better Documentation
Developer Console
Google Cloud Pub/Sub
App Discoverability Improvements
Awareness Ads
Bill Management Improvements
Extra Payout Methods
Storefront API Changes
The storefront API has received improvements that make it more streamlined. It's also easy to use and navigate and improves user experience, whether headless commerce or traditional storefront commerce.
At the moment, this is still a work in progress aimed at developers. Some features include:
New Cart Capabilities
International Pricing
Local Pickup
Selling Plans
Metafields
Schema Updates
What Is Hydrogen?
Hydrogen is Shopify's quick-start environment. Think of it like a new house where you inherit the shell. But then you can personalise the experience in whatever way you like.
Hydrogen allows developers to engage in a quick-build solution. Hydrogen is great for speeding up the building process.
Shopify Unite Lived Up to Expectations
There's no denying the unstoppable force that is Shopify Unite. For years, they've been taking the industry by storm and set the standard in eCommerce.
With an easy-to-use platform and outstanding customer service, Shopify is a stellar choice for any business that wants to make the world a better place.
If you're looking for a developer who can make the most of these changes, then get in touch today and let's unite!