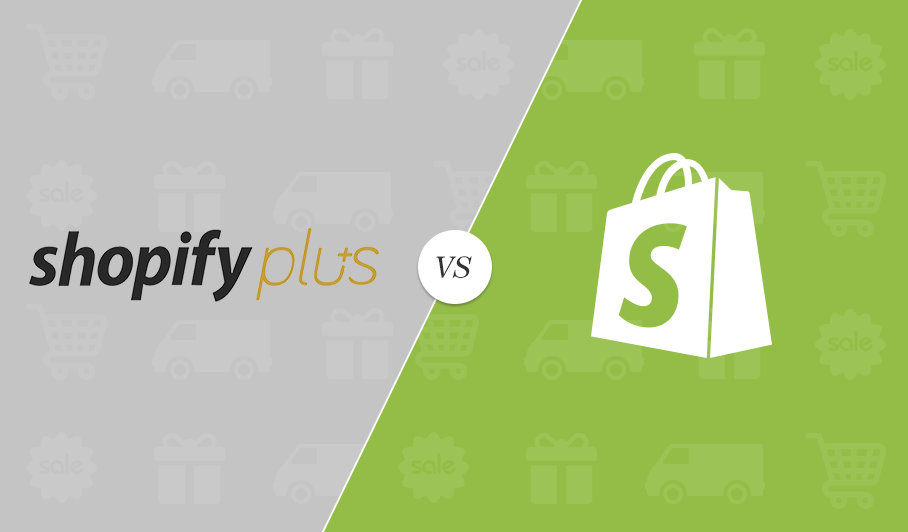 If you run an online store you're probably already familiar with eCommerce platforms.
Shopify is a hugely popular option, but there's also the new platform Shopify Plus. You may be asking, what's the difference between the two?
Shopify Plus boasts of 6,000 checkouts per minute and is used for well-known companies like Nine West, Nestle, and Kylie Cosmetics. In order to know if it's right for you, you should be informed about your options.
It can be hard to know where to start when choosing a Shopify plan. So keep reading, you're about to find out the key differences between Shopify vs. Shopify Plus.
Features in Shopify vs. Shopify Plus
The power of their features is the major difference between these two eCommerce options.
With Shopify Plus you get higher level tools and more features than Shopify. You also gain the ability to scale your business. If you've already built a fair sized company and now need to run with the big dogs, you need to be on Shopify Plus.
Higher Level of Customization
It includes customizable product pages and payment processing features as well. The look of your storefront can be built completely to your specifications. You can also customise your checkout page with a responsive layout.
More Staff Accounts for Larger Businesses
If you have a large team that is at least 15 members or more, Plus is the way to go.
No Need for Coding Knowledge
The simplicity and ease of use is something that subscribers like about Shopify Plus. Adding a new product is easy since they do all of the backend code work for you.
Having software that takes care of orders for you means you can focus on marketing and design. If you also don't want to spend a lot of time on order management, again, Shopify Plus is right for you.
Shopify Plus also integrates with a large number of platforms. These sales channels include Facebook and Facebook Messenger, Instagram, Kik, and Amazon.
Features for International eCommerce
Finally, Shopify Plus has a feature called clone store or multi-store. You can create multiple versions of your store, under one account using this.
This clone option is not available on Shopify's basic plan. It supports multiple languages and currencies, great for international eCommerce. It also works well for wholesaling and regional stores.
Transaction Fees Are Lower with Shopify Plus
A great advantage of Shopify Plus is its lower transaction fees. The fee per transaction is lower than 0.2 percent, depending on your store's revenue. It can even be as low as 0 percent, however, credit card processing fees still apply.
This can be compared with Shopify's standard 0.5 percent to 2 percent transaction fee. So it's definitely a "Plus" when you have a high volume of transactions happening in your store.
Shopify Plus Has a Higher Level of Support
An important factor when looking at the pros and cons of Shopify vs. Shopify Plus is support.
If you want a higher level of support, it's good to know that Shopify Plus provides dedicated account managers. These include launch managers, merchant success managers, and best of all, 24/7 priority support.
As you start working with Plus the launch managers will support you and provide technical assistance in migration and development. The merchant success managers help steer you in the right direction in various areas to increase your profits. This could mean billing support, sales channels, and more.
Pricing and Fees with Shopify Plus
There are custom fees for each client, so in order to find out what you would pay for the service, you must request a quote. As a guideline, they start at approximately $2,000 USD per month.
Fees vary depending on the volume of your sales as well as the needs of your business. This could include design needs, tech and growth variables. The advantage here is that you can budget for a fixed cost every month once you have your quote.
There is an easy way to figure out if paying more for it makes sense for you. Weigh it compared to the cost you'd need for hosting, fees, and a web developer.
Who Should Use Shopify vs. Shopify Plus
The main types of companies who should use Shopify Plus are large ventures, wholesalers, and enterprise level eCommerce shops. Shopify is for small and mid-level businesses.
The powerful and reliable nature of the Shopify Plus software makes it ideal for businesses who would otherwise have to hire technical staff.
In exceptional cases having a system like Shopify Plus is a definite advantage. For example, a spike in sales around the holidays can bring a crash to your store or system if you have not prepared. Shopify handles incidents like this so you don't have to worry.
Why You May Not Want to Use Shopify Plus
As great as Shopify Plus may be, there are some businesses for which it would not be a great fit.
Content-rich sites that need blogs are the first type that will lose functionality with Shopify Plus. It does have blogging tools, but it's primarily built for eCommerce.
If you want to customise things on the backend, you also won't find that feature with Shopify Plus. As a hosted platform, everything has to go through the front end or Shopify's own API.
If this is an issue that might be important to you, speak to your developer. You'll have to weigh Shopify Plus against the option of having your own server.
Shopify Plus does a lot as far as development, but you still need to have employees who can use it. You'll see a greater need for training in Shopify as you customise your store to match your needs.
Building Your Shopify Store
eCommerce can be a difficult area to manage, but hopefully, now you have an idea of the differences between Shopify vs. Shopify Plus. Remember when choosing your Shopify plans that they don't include domains, apps or themes.
Get in touch with us and see how we can help grow your eCommerce business today.