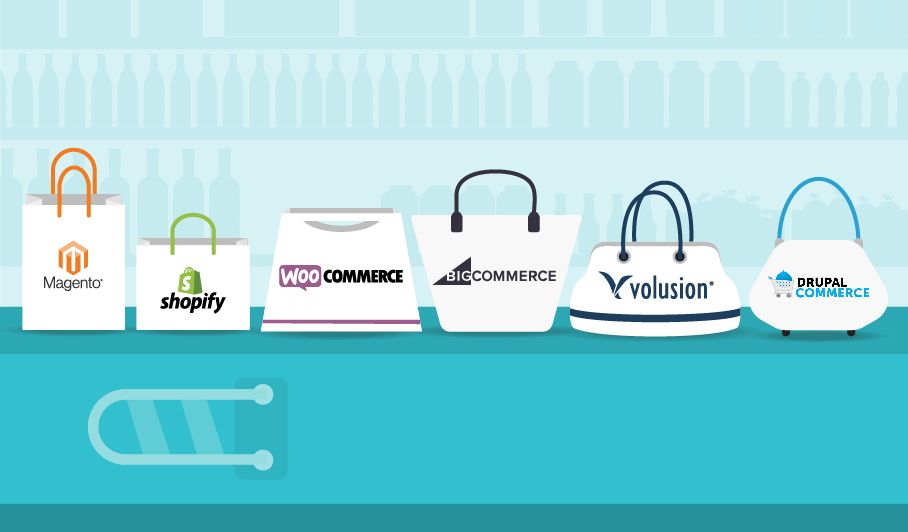 Choosing a high-quality eCommerce platform to fit your brand's needs can make or break your online business.
Even the most minor of differences in performance or features could impact your net earnings down the line. But the best eCommerce platforms on the market offer your brand the potential to make huge revenue strides. No matter if you're a small startup or an enterprise titan, your success hinges on the eCommerce platform you choose.
Why?
Experts project that eCommerce sales will rise a whopping 21 percent by 2018 and the platform you're trading on will go a long way to determining your success.
To help you parse through the many eCommerce options available to you today, we've created this guide to the best eCommerce platforms in Australia that are available to the majority of merchants.
Let's dive in!
Magento

Magento hosts around 200,000 merchant stores. One of the most popular eCommerce platform options, medium to large businesses laud its shopping cart function as the best around.
Pros:
Highly customisable: Magento allows merchants to customise the platform to meet their requirements exactly. It can support an unlimited number of products, attributes and thousands of transactions each hour, making it an affordable enterprise option compared to Demandware or Hybris.
Multi-store configuration: If you want to sell internationally or create a wholesale or outlet store, then nothing compares to the multi-store flexibility of Magento.  You can run multiple websites off a single CMS installation, managing your product catalogue and orders for all stores from the one location.
Integration: Few eCommerce websites exist in isolation and Magento can integrate with any external platform.  The most popular systems already have an existing Magento integration module and if they don't, you can build it.
Price: The Community Edition (CE) version is free for small to medium sized businesses, however Enterprise Edition (EE) starts at USD$18,000/year for an enterprise business license.
Community: Magento has been around for a long time and has a passionate community of developers who continue to produce high quality plug-ins and extensions.  This continues to grow and will only get bigger in the years to come.
Cons:
Maintenance costs: With the flexibility comes the added responsibility of maintaining the platform.  Bugs WILL occur and you need to regularly patch security updates from Magento to ensure everything stays secure.  You'll need a reliable Magento development partner (like us!) to keep your site running in optimal condition and to continuously enhance the shopping experience.
Hosting: Having a reliable hosting provider is of equal importance as you take on the responsibility of hosting the website. This means you need to be organised for sales so that your server is prepared for large spikes in traffic.
Performance: This used to be a major issue on Magento 1, however this has been addressed with Magento 2.  Find out more here.
Perfect for: Mid-tier to large retailers who want total control over the customer experience and platform integrations. Stores need to be generating more than AUD$500,000/year to justify the initial investment and ongoing maintenance costs.  Once you're on Magento 2 though, there'll be no need to re-platform as you'll have complete control over your store for years to come.
Magento stores we love: Gant, Children Salon, Need Supply, MADE, SA1NT, Market Lane Coffee, Overkill and Paul Smith.
Looking for an experienced Magento partner?
Contact us
 today.
Shopify

With a completely different model but equally impressive set of features is Shopify, which continues to innovate and is rapidly poaching merchants from other platform providers.  Shopify has over 100,000 stores and over $5 billion in product sales and is fast becoming one of the most popular platforms in Australia and overseas.
Pros:
Performance and stability: Fast loading times and rock solid stability are a given with Shopify.  They host the software so take full responsibility for the performance and security.
Time to market: Shopify has beautifully designed themes, many of which are free, so you can get a basic store open at a minimal cost and in a matter of days.
Support: They offer 24/7 web support and if you're on Shopify Plus, you will get your own Account Manager in Australia to support you. If there is any development that needs to be done however, you will need a development partner.
Cost: Shopify's basic plan starts from USD$29/month; the average plan is for USD$79/month, and advanced Shopify is $299/month.  Things get more expensive once you move onto Shopify Plus or if you rely on a lot of apps, which get charged monthly.
Cons:
Customisation: On the basic and advanced plans any significant customisation is limited, with the best option to extend functionality using products from the App Store. You can customise more with Shopify Plus, but nowhere near the extent of Magento.
Multi-store Configuration: If you want to sell to an international audience and maintain a local currency throughout the entire experience, you'll need a separate CMS for each region, which isn't an option for busy merchants.  There is a workaround if you integrate with an ERP system to manage product pricing and stock levels, but it's still not ideal. If you want to wholesale or create an outlet store, these will need a separate CMS as well.
Cost: If you're on Shopify Plus you pay for the privilege, starting at USD$2,000/month, to a maximum of USD$40,000/month. In addition to this, there is a transaction fee of 0.15% if the merchant isn't using Shopify Payments.
Content and Commerce integration: Creating engaging content experiences such as interactive look books, shoppable content and landing pages are limited in comparison to a platform like Magento.
Perfect for: Shopify used to be the domain of small brands and start-ups, but with Shopify Plus larger merchants are starting to jump onboard.  If you don't have complex requirements, such as large catalogues, different product types (think bundled and grouped products), multi-store requirements or bespoke functionality, then Shopify is a great option.
Shopify stores we love: Mission Workshop, Frank Body, Reigning Champ, Condor, Topo Designs and Citizen.
Looking for an experienced Shopify partner? 
Contact us
 today.
WooCommerce
As the eCommerce shopping cart for WordPress, WooCommerce is used by more merchants than any other platform featured in this post.  It provides much of the flexibility of Magento, but targeted at smaller merchants with more basic requirements.
Pros:
Customisation: Similar to Magento, you control the code and host the website so have full control over the customer experience and integrations.
Design: WooCommerce offers plenty of themes for free, providing a solid starting point to get you online quickly for a minimal cost.
Content integration: WordPress is one of the most popular content management systems globally, so all of the content rich features available in WordPress can be included as part of the shopping experience.
Cons:
Maintenance costs: WooCommerce updates frequently to secure the platform, which can cause issues with plugin conflicts.  Overall the platform will require ongoing maintenance to address general wear and tear, but not to the same extent as Magento.  Most important thing is that you have a reliable WordPress development partner (like us!) to support the site.
Community: While well supported, lacks the range and quality of plug-ins available with Shopify and Magento.
Roadmap: As Magento and Shopify go head-to-head and continue to innovate and evolve their platforms, it'll be interesting to see how WooCommerce keeps up and improves the platform.  Signs are at this stage that it'll continue to lose ground.
Perfect for: Small to mid-tier merchants who require more flexibility than Shopify, but not the full set of features and integrations available with Magento.  If WooCommerce is the right fit for your business, take a serious look at Shopify first as you might find everything you need on their hosted platform.
WordPress stores we love: Rapha, Saucey, MOO and Scout Books.
BigCommerce

Offering a similar model to Shopify, BigCommerce remains a popular hosted eCommerce platform for smaller retailers looking to get online quickly at a low cost.  BigCommerce is fighting back against the competition, recently rebranding and launching services that Shopify is yet to offer, such as adding Amazon Pay as a new payment method on the platform.
Pros:
Price: This platform is light on fees on its basic plan, with no transaction charges or hidden costs, making BigCommerce a good option for merchants with tighter budgets.
Performance and stability: Similar to Shopify, BigCommerce hosts the platform and takes full responsibility for the performance and security.
Built-in features: Offers a trove of advanced features out-of-the-box, provided you take the time to learn the ins and outs of the system.
Design: BigCommerce offers a wide array of attractive, customisable layout themes and the interface can be modified by non-technical users, with a drag-and-drop system.
Cons:
Price: Although the monthly price is low for smaller merchants, a recent change in pricing structure now charges merchants based on the sales they generate. The basic plan starts from USD$29/month up to USD$50,000/year in sales and jumps to USD$199.95/month up to USD$1m in sales.  The comparable Shopify plans don't charge you extra for the sales you generate.
Customisation: As a hosted platform, you can't customise the code like you can with Magento and WooCommerce.
Perfect for: Small brands that require little or no customisation.  If a hosted platform is right for your business, it would be worth taking a serious look at Shopify first.
Volusion

Volusion shares a lot of the same features as BigCommerce, but they stand out when it comes to the variety of learning materials available. They offer comprehensive video tutorials and 24/7 web support.
We have no experience with Volusion, but find their pricing to be complicated with different pricing based on the number of SKUs and bandwidth used per month.
If you're looking for a hosted solution, you should review Shopify and BigCommerce first.
Drupal Commerce

Similar to Magento and WordPress, Drupal Commerce is an open source platform that has the same benefits in terms of customisation and a passionate community of developers behind it, however it lacks the extensive features, functionality and integration options.
Drupal is a popular CMS among government departments in Australia, so it could be a good option if you have restrictions regarding the technology you can implement in-house.
What Makes the Best eCommerce Platforms Tick?
Tech innovation changes not only consumer expectation and behaviour but also business practices. The eCommerce industry is no exception to this rule.
Mobile Optimisation
Mobile sales grow 300 percent faster than overall eCommerce sales.
Take mobile first. 66 percent of the time users spend interacting with online retail platforms happens on mobile.
You need to optimise your eCommerce site for mobile to keep up. Slow load times could cost you tons of potential buyers. A 1-second improvement in load times equates to a 7 percent increase in conversions.
The best eCommerce platforms offer quick loading times and responsive UX designs.
SEO Performance
The eCommerce platform you choose should come with a number of essential SEO features and luckily the platforms mentioned above tick most boxes.
Every platform will enable you to open an online store, accept basic types of online payment, and the ability to brand your site but you need more.
You need SEO tools like sitemaps, customisable URLs, and metadata. You need space for a blog to offer quality content to boost your SEO. Most of all, you need Scalability.
Scalability
As your business grows you need the ability to scale your online endeavours. You might choose to go multichannel, maybe even global.
Your eCommerce platform cannot hold you back.
Magento and Shopify are two platforms that continue to innovate and they won't rest on their laurels, so merchants trading on either of these will continue to have access to the latest features as they're released or built by the passionate development communities.
The Final Word on the Best Ecommerce Platforms in Australia
The final decision of which eCommerce platform to use for your business comes down to your unique preferences and needs.
Most eCommerce platforms do a decent job, but the first three we mentioned are the clear frontrunners and will help you keep your edge over the widening eCommerce market. They will work to help your eCommerce business grow.
Whichever you choose to use, keep in mind your skill level, time, money, security, and support as they'll all play a factor in making your eCommerce platform work for you.
Want to learn more about making the most out of your eCommerce experience? Contact us today to learn how we can help you!