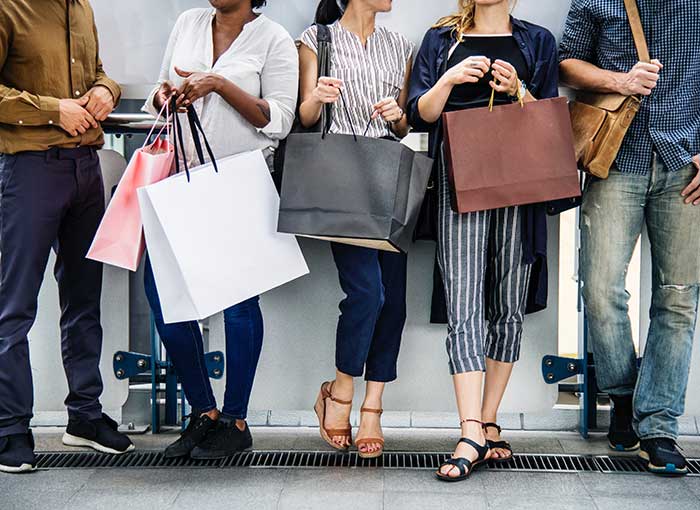 Fashion eCommerce is a vibrant, fast-moving sales environment. If the constant shifts in fashion trends aren't enough to keep you up at night, there's the dozens of ways you can optimise your store for better sales.
From the beginning to the end of the sales process, there are specific steps to take if you want to optimise your ecommerce store. And, luckily for you, today we'll be bringing you ten of our favourites, ready for you to implement into your digital retail platform.
1. Retargeted Facebook Ads Increase Conversions
Most buyers are at least a little jaded when it comes to marketing. They might not be ready to buy as soon as they see your ad or website, no matter how good they are.
Retargeting allows you to reach these people with follow-up ads. Creating Custom Audiences with Facebook takes a little bit of code. In addition, you can target Lookalike Audiences as well to expand your reach more people.
Follow up with discount ads as a way to nudge buyers along. Find people who have abandoned their shopping carts and retarget them to seal the deal on sales that would have otherwise never happened.
2. Run Holiday Promotions
Buying is seasonal, and your marketing should reflect that, especially around major holidays.
It's Christmas? Time for a 12 Days of Fashion promotion.
Easter? How about an Easter Egg Hunt through your online fashion store, or a discounted shopping trip for someone who gets the "golden egg".
Whatever the promotion, customers love getting something back, and the holidays are a perfect time for giving.
3. Instagram Giveaways
Remember how we said everybody likes getting something for free? Well, if there's an item in your online apparel store that's more popular than others, you'll want to run an Instagram giveaway. It takes a little investing on your part, but the results will speak for themselves.
Here's a simple formula:
Post a photo of the item.
Get your Instagram followers to comment on why they want the item in the photo. Also, make them tag three friends who might want the item too.
Set a date to award the item so everybody knows. Don't take longer than a week or people will start to lose interest.
Facebook is just as simple to run a giveaway on. As a side note, always make sure to use appropriate hashtags for your giveaway. You can make these competitions a regular event, too, which will give word time to get around about your brand.
4. Work With Influencers
Sometimes reaching the right audience is about connecting with their favorite people. Get your product or brand in front of a popular fashion vlogger with a dedicated fan base, and half the work's already done for you.
Either work with them to create marketing content, or do your best to influence them into just loving the item naturally. Hitching your wagon to their horse will help garner interaction with their fans.
With bloggers, create a unique brand guide so there are no miscommunications or unfortunate incidents.
5. Encourage New Email Subscribers To Follow Your Instagram
Getting new email subscribers is always good for business. When you send out your thank you email, make sure to direct them towards your Instagram page. Here, they'll receive content that inspires them and they'll be encouraged to share photos of themselves with your brand as well.
6. Create Year-Round Gift Guides
Throughout the year, people buy gifts to celebrate the important moments in their lives. As a clothing eCommerce marketer, you have to capitalize on this. Promote your products via gift guides for different holidays and gift-giving occasions.
Mothers or Fathers Day, graduations, Valentine's, weddings or anniversaries. Everyone has a reason to buy a gift at some point, and you need to make sure they know how your products fit the bill.
7. Create A Community
Building a brand community starts with encouraging your fans to share your content and drive engagement around your brand. The more you're "out there", the more people will get a feel for who you are and what your fashion is all about.
Run a Facebook or Instagram contest where people share photos of things associated with your brand, along with a special hashtag.
Through this approach, you'll create a "community" of people who appreciate what your brand represents. And this means loyal customers and an exclusive club for others to join.
8. Blogging
Blogging is one of the most impactful marketing tools on the Internet for clothing retailers. Start a blog for your fashion brand today, and start providing consistent, valuable information to your readers.
Your posts don't need to be long and they don't need to be perfectly written (although it's advised). What's more important is that they come out regularly, they feature eye-catching imagery, and that they link back to your products.
9. Style Guides
If your fashion brand encompasses a variety of clothing options, combine everything you know about style into a guide. Featured on your website, this will give curious visitors great ideas on how and when to wear your clothing.
This is a service to your followers, which is great but also makes sure they're focused on your clothing for long enough to commit to a purchase. Create seasonal guides for spring, summer, fall, and winter, or special occasions and holidays.
10. Email Reminders For Shoppers With Leftover Items In Their Shopping Carts
It's an online shopping tale as old as online shopping time. Shoppers will add items to their carts, then to purchase them. As a retailer, this is a great opportunity to make a connection and encourage a sale.
Send out emails to people with unpurchased items in their shopping cart. Do this in intervals, with a day, a week, and then a month in between. Try sending out a discount code for their specific purchase.
11. Bonus Point: Remove Roadblocks
As a special bonus point, we'd also like to point out that roadblocks in the purchasing process are always a no-no. Make sure to have someone use your online clothing store, going through the purchasing, payment and returns processes. If buyers can't return their products without hassle, word will spread and you'll see it in your sales.
Fashion eCommerce: There's A Better Way
Ultimately, an online fashion store is like any other business. You need to make sure you're firing on all cylinders if you're going to ensure you're making every sale you could be. Hopefully, today's article will go some way towards streamlining and improving your sales process.
Looking for more great eCommerce insights, from cutting-edge trends to rock-solid optimization strategies? Check out some of our other awesome blogs, and let us help you get more out of your digital experience.