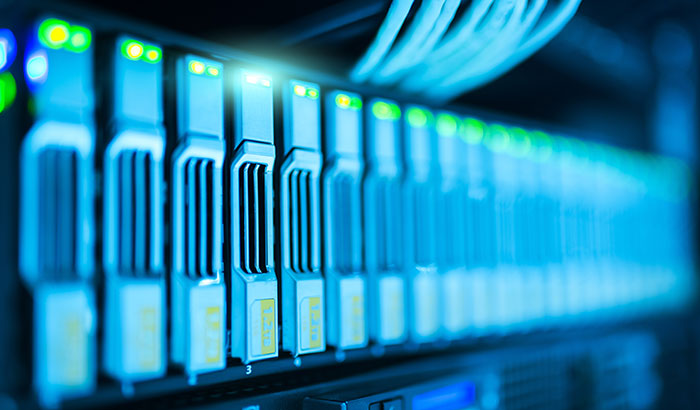 In the grand scheme of things, three seconds isn't a lot of time. But if your site doesn't load well within that window, you may lose a potential customer.
That's not good news for any company or merchant, no matter how large or small. But that's why having the right power behind your site is so important.
If you run your shop on Magento 2.0, you've likely considered whether self or managed hosting is better for your needs.
We'll help you weigh your Magento hosting options, including the benefits of Magento cloud hosting.
Cloud Hosting vs. Managed Hosting vs. Self-Hosting: What to Know
If you're considering opening up a Magento eCommerce store, you're one of more than 240,000 shops in the world with the same idea. What your peers already know is that you'll need a powerful hosting plan before you set up shop.
Breaking Down the Differences Between Hosting Types
There are three main types of hosting for your eCommerce site: self-hosting, managed, or cloud hosting.
Self-Hosting at a Glance
Self-hosting involves purchasing space on a particular web hosting company's servers for your online store. Like the name implies, this option puts a lot of responsibility on you.
The hosting company will do the work to make sure it's providing the speed and server space you signed up for. But they won't set any software up or manage anything for you, which means that you'll be responsible for any and all of the technical stuff.
Managed Hosting Details
Managed hosting on the other hand, does offer some hand-holding. You'll see package options with varying degrees of support, but most managed hosting providers will help with things like automatic backups, updates, security, and other types of monitoring to make sure everything is running as it should.
Cloud Hosting Hallmarks
Cloud hosting is much more flexible than the other two types of hosting. You may start out purchasing a certain amount of server space, but you have the ability to change this as your business expands. There's room to grow because the cloud hosting provider distributes all the resources you purchase across various devices and machines—all in the cloud.
An offshoot of cloud hosting is something called VPS, or virtual private server. Cloud hosting involves distributing space across a number of servers. But VPS focuses on just one physical server and individual portions of that particular server.
There's more privacy in away with this option, but there's also more risk involved if that server were ever to go down.
Cloud hosting reduces the risk of that happening because of the sheer number of servers involved. This also means there's more likelihood that you'll be able to accommodate, say, a spike in shoppers during a sale or holiday.
Choosing the Right Magento Host
There's a lot of information to sift through when choosing the best Magento host. You know you'll need a provider that meets all the technical specifications. You may also want to consider the kind of flexibility and support you want from a hosting service.
Self-Hosting with Amazon Web Services (AWS)
A common self-hosted solution for many Magento store owners is AWS (Amazon Web Services. AWS hosting is cloud-based and is a suitable choice for a range of business types, from the very modestly sized to world-wide enterprises.
There are many reasons that hosting a Magento site with AWS makes sense. Here are a few highlights:
You have the option to grow or scale back server needs if you need fewer resources
You're working with a global tech leader an innovator in web technology and eCommerce
AWS offers a high level of security, which helps you protect your own private information as well as your customers
While the two seem like a match made in heaven, maybe you're still wishing for a little bit more. Maybe you want more Magento-specific support or an easier way to test and make changes to your store.
If you find yourself wishing there were a Magento cloud hosting solution, there is!
Opting for Magento Enterprise Cloud Edition
Magento Enterprise Cloud Edition combines all your needs in one platform. You get hosting space, managed hosting support, and all the benefits of cloud computing.
This platform for Magento Commerce, formerly known as Magento Enterprise, is fast, flexible, and built specifically with the Magento shop owner in mind. It's an eCommerce swiss-army knife.
8 Advantages of Magento Cloud Hosting over AWS Hosting
The Magento Enterprise Cloud Edition provides an easy answer to the question of choosing the right Magento hosting provider. Here are eight reasons why this platform will simplify the way you run your Magento eCommerce store.
It's built for Magento
You know the company that built this product, because they're the same architects behind Magento 2.0. Not only will you avoid having to worry about compatibility issues, you can feel confident that the system will let you do exactly what you want with your store—because it's optimised to do that.
Security You Can Count On
Magento has your back with automatic patches and secure and regular updates. You can have peace of mind that the platform will help you stay up to date and scale safely.
You Have Access to 24/7 Assistance
The managed services aspect of the platform means that a helping hand is always within reach. You can reach out 24/7 with questions related to applications or general infrastructure.
It's in the Cloud
If you love the idea of the cloud hosting service AWS provides, you'll get that here too, plus dedicated support.
It's a PaaS
And while it's cloud-based, this is also a PaaS (platform-as-a-service). This means that you can create unique applications for your business in the cloud and house them there too.
Truly Customisable and Scalable
One of the largest benefits of this platform is the ability to develop and test out different storefronts, customisations, and services before you launch them. You really have power to tweak and modify your shop as your needs change.
AWS Benefits
Magento cloud hosting is made possible with AWS. If you think they're a great pair, then this allows you to have the best of both worlds.
Loads of Special Features
Leveling up to this product means that you'll really get so much more than the typical Magento feature list, which is already so robust. This includes Solr Search, which helps out when a customer misspells something when they're searching for a product on the site. You can also build an SEO-optimised mobile site in a flash.
Looking for a Magento 2 Partner?
Even if you think Magento cloud hosting is exactly what your business needs, you probably still have a lot of questions. We have the answers! Reach out today for more information or to find out about or Magento solution services.