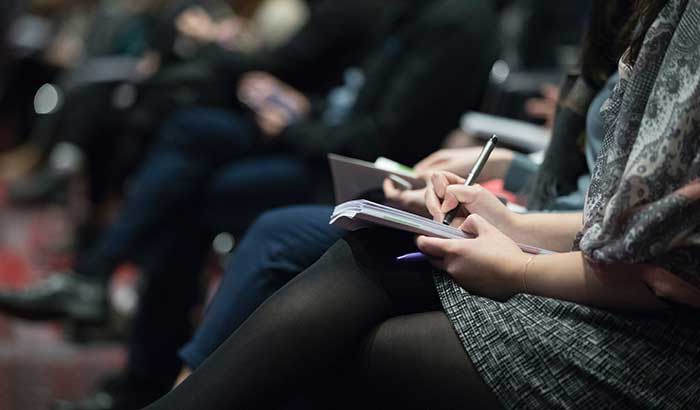 Australia is the 11th largest eCommerce market in the world, with revenue expected to increase to 32.3 billion USD by 2024.
But how do you capture a share of this market? One way is to attend a conference. Conferences are great for learning the ins and outs of eCommerce, as well as networking and getting introduced to new opportunities.
We rounded up some of the most important eCommerce conferences of the year, both in Australia and internationally. Here are the ones you cannot miss in 2021.
March
Retail Global: Gold Coast
Retail Global's tagline is "Helping you sell more online." They pride themselves on making their conference more affordable than similar conferences. Their site mentions the conference is a celebration of everything eCom in Australia.
This year's keynote includes a talk about the rise of the eCommerce consumer during COVID-19. The keynote will be presented with special insights from Australia Post.
Retail Global: Gold Coast is held 29-31 March in Gold Coast, Australia.
April
Etail Canada
Due to the COVID pandemic, this year's eTail event is a virtual event. The virtual sessions will be shown live and also recorded for later viewing on-demand.
The conference focuses exclusively on retail executives, so solution providers are not allowed to attend. eTail Canada looks to be a unique virtual event catered to these individuals. But best of all, registration for their virtual event is absolutely free.
Etail Canada will be held online on 13 April.
May
Futr Europe
Futr Europe is an annual gathering of retailers and brands across eCommerce, marketing, innovation, and customer experience. They pride themselves on having a high attendance of C-level executives with over 2500+ visitors.
Futr Europe is held from 20-21 May in London, England.
June
NRF Retail Converge
NRF Retail Converge is a new virtual event. It's a spinoff of the National Retail Federation's North American event.
The inaugural event will feature session topics on eCommerce, marketing, merchandising, data analytics, store operations, and cybersecurity. If you cannot attend a live session, they have on-demand viewing available.
They also plan on having a dozen lunch and learn sessions, product demos, and interactive roundtables. The first NRF Retail Converge looks to be an ambitious new virtual event.
NRF Retail Converge is held online from 21-25 June.
July
Online Retailer
As the name suggests, Online Retailer is for retailers of all sizes to connect with peers and learn key topics such as B2B eCommerce, eCommerce optimisation, leadership, scaling your eCommerce business, and more.
The two day event hosts multiple conference tracks and dozens of speakers from around the globe.
Online Retailer is held from 21-22 July in Sydney, Australia.
August
Ecommerce Operations Summit
The Ecommerce Operations Summit bills itself as the only event devoted to every area of omnichannel and direct to consumers operations and fulfillment. Their focus will be on shipping, returns, customer experience, supply chain optimisation, peak season planning, and more.
The Ecommerce Operations Summit is held from 17-18 August in Nashville, TN, U.S.
RetailX
The RetailX conference describes itself as "The digital future of retail." Their focus is on technology and trends that shape the digital retail space.
RetailX also offers a host of virtual events throughout the year. If you are unable to attend their conference in person you can attend one of these on-demand events.
RetailX will be held 24-25 August in Chicago, IL, U.S.
September
Alibaba Ecosystem Expo
Alibaba's Ecosystem Expo connects Australia and New Zealand to the growing Chinese market. As the Chinese middle class grows, so does the demand for high quality imported products. Agribusinesses, small businesses, and other brands interested in selling to this emerging market should consider attending.
If you are looking to specifically enter the Chinese market, this could be a good conference for you.
The Alibaba Ecosystem Expo will be held from 17-18 September 2021 in Melbourne, Australia.
Paris Retail Week
Paris Retail Week features hundreds of exhibitors and hundreds of talks. Previous Paris Retail Weeks featured 600+ exhibitors.
This year's event will look at eight big issues faced by online retailers: agile customer experience, omnichannel commerce, marketing B2B, data, marketing innovation, new payment, marketplaces, and the supply chain. Each issue will be presented by an expert on the subject.
Paris Retail Week will be held from 28-30 September in Paris, France.
October
Ecommerce Expo Asia
When and where: 20-21 October 2021 in Singapore
Ecommerce Expo Asia will host discussions on supply chain management, cross border commerce, mobile commerce, customer experience, and more. Their focus is on both B2B and B2C commerce.
Ecommerce Expo Asia will be held from 20-21 October 2021 in Singapore.
November
#Dmwf Europe
#DMWF Europe or Digital Marketing World Forum Europe, is a two day event focused on digital marketing. This year's event will focus on influencer and social media marketing, digital brand strategy, data, and eCommerce strategies.
Their eCommerce track will focus on the ROI of UX, customer loyalty and retention, customer experience strategy, and more. If you are looking for an event with more of a focus on marketing for eCommerce, #DMWF may be worth attending.
#Dmwf Europe will be held from 23-24 November in Amsterdam, Netherlands.
Ready for This Year's Ecommerce Conferences?
Prepare yourself for this year's eCommerce conferences by making sure your website is responsive, unique, SEO friendly, and ready for online sales. That's where we come in.
Designing and building online stores is what Digital Outlook does best. We can create something for you from the ground up or integrate your existing platforms into an eCommerce website.
No matter what your project size is, we ask questions, analyse, and plan to ensure smooth execution. That is what sets us apart.
Ready to get started? Fill out our enquiry form and tell us about your project.