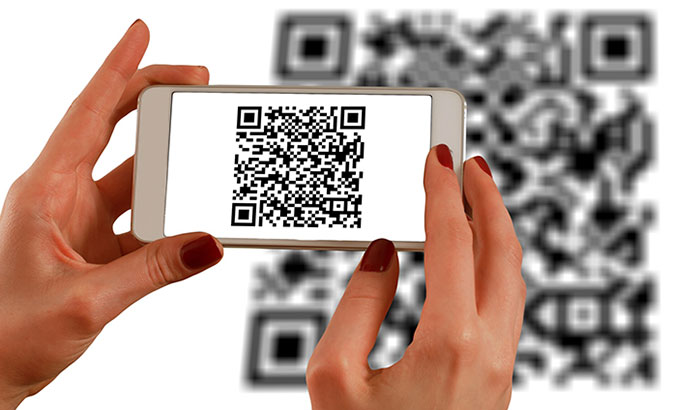 How can your eCommerce business take advantage of QR codes to better promote your online store?
It's estimated that 5.3 billion QR code discounts and coupons will be redeemed by 2022. There was a 26% rise in QR code usage over the past few years. Over one-in-nine iOS devices include a QR scanner and thousands of apps exist for Android phones.
This article offers 5 QR code uses that your eCommerce store should take advantage of.
We look at the benefits of QR code applications for online marketing. You'll learn how to direct customers to your product pages. Then sign them up to your email and SMS marketing lists.
Read on to discover some great QR code ideas and make the technology work for you.
What Are QR Codes?
Quick Response or QR codes is the modern equivalent of barcodes but offer extra functionality.
They provide a two-dimensional way to share information through a square 'dotted' image. Unlike barcodes which are limited to letters and numbers, QR codes hold:
4296 characters of data including special symbols
Email addresses
Website URLs
Contact information
QR codes can appear on marketing materials, replace barcodes on items, even be printed or digitally shared. They're durable too as the technology allows up to 30% damage and still be readable.
All that's required to read a QR code is a simple app on your phone.
Your camera acts a scanner and the app will display the result. You can then read the message, tap on a link, or do whatever the code was designed for.
Benefits of QR Codes for Retail Marketing Campaigns
How can QR codes help to market your online eCommerce store?
As mentioned above, QR codes aren't just barcodes. They're gateways to information and provide an easy way for you to communicate with your customers.
And some of the biggest online brands take advantage of QR code uses to promote themselves.
Online and Offline QR Code Applications
Amazon adds special QR codes to their packaging and marketing materials called SmileCodes. Branded with Amazon's smile logo, they let users scan for discount deals and links to product pages.
SnapChat uses its own form of quick response format called SnapCodes.
Users can photo a unique SnapCode to easily add people to their messaging app. They can even create their own codes and share them via social media.
Alibaba's Alipay Code allows merchants to create an invoice for easy payments.
Product details, prices, totals, etc. get included in the QR image. All the user does is scan the code and agree to the payment. Alibaba's website does the rest.
QR Code Uses for Digital Marketing Strategies
The quick response format is so versatile that it offers a huge variety of QR code uses.
We've highlighted 5 of the best QR code ideas below to benefit your digital marketing strategies.
1. Direct Links To Landing Pages
Want to increase your product page conversions? Then use a QR code to link directly to your landing pages.
Landing pages offer a way to promote groups of products on one screen. They're traditionally used to bolster your organic search results through SEO but can offer much more.
Use a QR code to link directly to your landing page or an optimised category page. Customers can then see all your product offerings in one place for the type of items they're interested in.
You can also create codes that link straight to your product details pages on your mail receipts. That makes re-ordering a snap.
2. SMS Marketing Messages
The beauty of QR code uses is their versatility. That includes opting-in to marketing SMS text messages when the code gets scanned.
Use a free tool like the QR Code Generator to build your code. Select Generate then choose the SMS option.
Enter your business mobile number then add a keyword or message that will auto-populate the user's messaging app. Download the QR image then print or attach it to your marketing materials.
When the user scans your code a pre-built message appears on their phone. All they need to do is tap send to opt-in to your marketing list.
Combine this service with a text messaging system like SimpleTexting.com to automate the process. That means no more typing in long numbers or opt-in phrases, just an easy way to market your business.
3. QR Coupons
Include coupon and discount codes within your QR code applications to really take advantage of the technology.
Your customers can only use these codes if they scan them so include links to your product pages with the image. Also, create a sense of urgency to increase the likelihood they'll get used.
For example, state clearly that the code runs out within the next month unless it's scanned. That way it makes the discount extra special, giving it added value in the customer's eyes.
4. Pick-up Location Maps
Promote your offline store both as a shopping destination and as a pick-up location by creating a QR code map.
Digital Outlook incorporates interactive maps into our clients' WordPress sites. By adding a link to these pages, customers can ask for directions directly from their phone.
Links can also open in-built map apps like Google Maps to help them plan their journey.
5. Email Subscriptions
Like SMS messages, you can harness QR codes to send an email or sign-up to your newsletter.
Direct links to opt-in pages offer a simple yet effective way to increase your marketing lists. All customers have to do is scan then subscribe.
You can then use software like MailChimp to create campaigns and monitor their success. That includes tracking bounce and open rates.
You can even send your discount QR codes in your emails which customers can share with their friends!
Promote Your QR Code Ideas With Digital Outlook
This article's highlighted 5 QR code uses for you to market your online store and sell more effectively.
From building lifts for your marketing campaigns to map directions, QR codes offer a wealth of great ideas. But how can you ensure your eCommerce site will convert?
By ensuring it offers the best shopping experience possible.
Digital Outlook are eCommerce experts, specialising in Magento and WordPress development.
Based in Melbourne, we guide you through the complexities of owning an online store. We've helped many small to large-scale businesses trade successfully since 2007. And as certified Magento developers, we know how to integrate your QR code ideas.
Contact us today to see how Digital Outlook can help you.
Our team always offers a 'quick response'. And our number one goal is to make your eCommerce business a success.